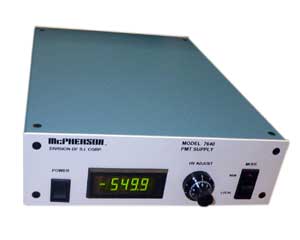 Power supplies, scan drives, controllers...
Technical Specifications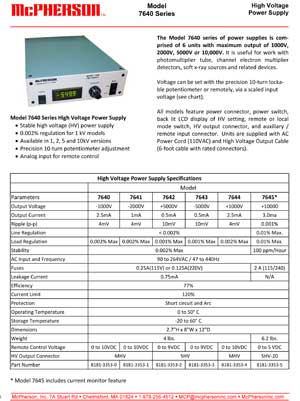 Related Accessories
-> Power Supplies
-> Photomultipliers
-> Micorchannel Plates

10 kV power supply for photomultiplier tubes and related devices for critical photometric and spectroscopy applications
New Adjustable 10,000 Volt Power Supply
We are pleased to announce the McPherson high-voltage power supply series now features a 10,000 Volt configuration. The 10-kilovolt model joins the already popular one, two and 5-kilovolt versions. We use these power supplies for many purposes in the laboratory. We power soft x-ray sources, photomultiplier tubes, electron multipliers, microchannel plates and more; anything that benefits from a stable and adjustable high voltage supply. Like existing models, the 10 kV Model 7645 is highly regulated and very stable. Voltage is set at the front panel by precise 10-turn potentiometer. The easy to read 4.5-digit LCD display allows users to confidently set and deliver high voltage levels with 0.001% p-p regulation. The instrument rear panel features a scaled analog input for remote control and a current monitor output.
Some HV Applications:

Photomultiplier Tube Detectors
Microchannel Plate Intensifiers
Channel and Electron Multipliers
First Person Experience:
"The high voltage power supply series was specifically engineered to produce regulated, low noise, high voltage for sensitive, high gain detectors in spectroscopy systems," explains D. M. Schoeffel for McPherson. How is that possible? "It was years in the making," explains Schoeffel… "Incremental revisions and hundreds of hours of testing in complex systems result in a proven, trouble free product."
Get the 7640 Series data sheet
####

---