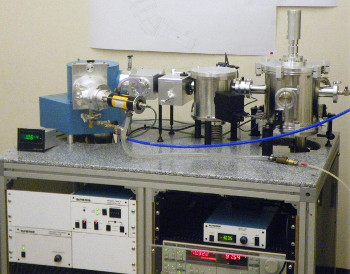 Corrected Deep Ultraviolet Spectrophotometer
Computer Optimized Design
Corrected Signal for Better and Faster Results
Vacuum or Purged Operation Available
115 to 350nm overall
Adjustable sample and detector angles
Deep and vacuum ultraviolet measurements have never been better, or easier. Development and manufacture of ultraviolet lasers, optics, crystalline materials, and resonance Raman instruments, as well as basic research, require a broadly useful instrument for analysis, characterization, and test. Enter McPherson's Vacuum Ultraviolet Analytical Spectrophotometer (VUVAS 2000.) From clean, particulate free and tight, purge or vacuum housing, to UV enhanced optics, sources, detectors, and computer optimized optical system. All VUVAS 2000 elements improve analytical results and simplify measurement tasks for the user.
The VUVAS 2000 works with gas or liquid sample cells. Most users employ optic-like substrates for transmission measurements. A three-position sample holder is standard. Cryogenic single-sample mounts, and raster-mapping attachments for large samples, are available as specials. The VUVAS also allows users to measure reflectance and easily alter angle of incidence to the sample surface. The detector is also adjustable. It can maintain theta/2-theta geometry for specular reflectance measurements, or deviate from this, to measure scatter or dispersive samples. The VUVAS design delivers absolute measurements. A single detector collects reference data as well as the final transmission or reflectance measurement. This approach enables users to qualify instrument performance, anytime and without extra accessories.
The VUVAS 2000 is a total solution. The one-touch vacuum (purge) controls and software allow users to perform high quality deep and vacuum ultraviolet measurements more easily and with higher confidence. It complements high performance UV/Vis instruments found in many laboratories and provides solid performance for the deep and vacuum ultraviolet region.
| | |
| --- | --- |
| Optical Design | Czerny Turner design Monochromator / Spectrometer |
| Focal Length | 350 mm |
| Aperture Ratio | f/4.8 (NA 0.1) |
| Wavelength Range | refer to grating of interest for range |
| Wavelength Accuracy | ±0.2 nm |
| Wavelength Reproducibility | ± 0.05 nm (with 1200 G/mm grating) |
| Grating Size | 68 x 68 mm (single grating holder, optional dual-grating turret) |
| Slits | Micrometer adjustable width 0.01 to 4 mm, height settings from 2 to 20 mm |
| Slit Locations | Axial and lateral, with optional port selection mirrors |
| Focal Plane | 25-mm, multiply dispersion by the width of your detector for range |
Performance with various diffraction gratings:
Grating Groove Density (g/mm)
3600
2400
1800
1200
600
300
150
75
50
Spectral Resolution at 312.6nm (nm, FWHM)
0.02
0.025
0.035
0.05
0.1
0.2
0.4
0.8
1.2
Reciprocal Linear Dispersion (nm/mm)
0.7
1
1.5
2
4
8
16
32
48
Wavelength Range from 185nm to
430
650
865
1.3 um
2.6 um
5.2 um
10.4 um
20.8 um
31.2 um
First Order Littrow Blaze (nm)
240
240
180
200
250
280
300
2 um
600
holo
300
250
300
300
300
500
3 um
12 um
holo
400
400
500
500
800
8 um
14 um
holo
500
750
750
1.25 um
10 um
750
1 um
1 um
2.5 um
12 um
1 um
1.8 um
3 um
4 um
holo
holo
4 um
6 um
8 um
Quick Contact Form
---